100% of your deposit refunded
In the event that an administrative decision (World, national or local) should prevent the realization of your stay!
Examples: if your region is affected by a travel restriction, or ours is subject to the closure of establishments open to the public (such as our campsite) or even general confinement …
These are situations that we no longer want to relive at all, but the experience has led us to become more far-sighted and to offer more flexibility for less stress!
We therefore undertake to cover any risk linked to an administrative decision prohibiting your stay.
For all other situations, we recommend that our campers take out cancellation / interruption insurance through our partner specializing in outdoor accommodation insurance, the "campez cover" Company.
For a cost of 3.5% of the amount of your stay, you benefit from cover linked to everyday accidents such as illness, accidents (with a Covid 19 extension included) … which would prevent your stay from being held.
Cancellation insurance CAMPEZ COUVERT-Guarantee COVID 19 When you book your stay at the campsite, several months or a few weeks in advance, it is strongly recommended that you take out "Cancellation and Interruption" insurance.
This insurance is optional but life has surprises in store for us that are often good, sometimes less pleasant … This is why we have established a partnership with an insurance company specializing in the cancellation of stays in outdoor hotels.
Only customers who have taken out cancellation insurance with CAMPEZ COUVERT at the time of booking can claim a refund under the conditions set by the company.
Book with confidence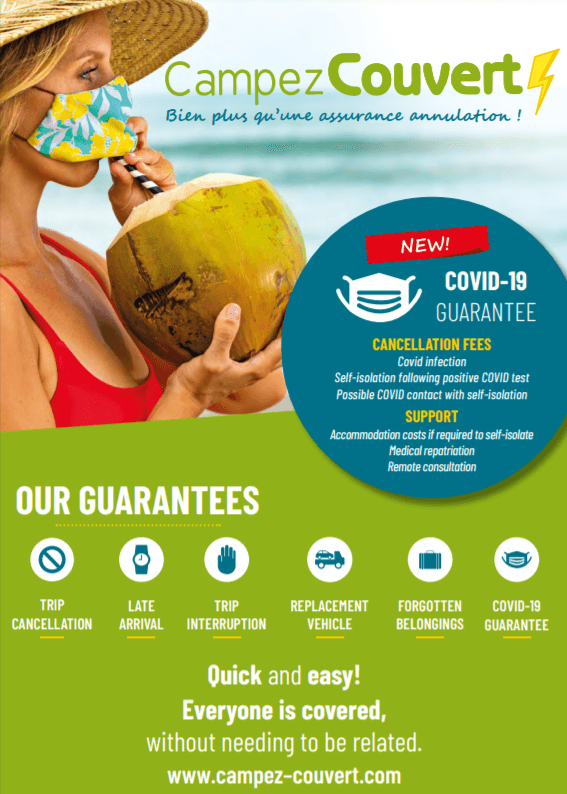 To anticipate the vagaries of life, we suggest that you take out cancellation insurance "CAMPEZ COUVERT Cancellation and Interruption of stay".
You can subscribe to this guarantee when booking your stay online.
You just have to mention it on your reservation. "Campez Couvert" undertakes to reimburse all or part of the stay reserved only for customers who have taken out Campez Couvert insurance, in the event of a covered claim.
Download the general conditions can be consulted on the website www.campez-couvert.com
What to do in case of cancellation or delay in the stay?
1 / Please notify us by mail or email.
2 / Declare the incident on the Campez Couvert site
It is recommended to take out cancellation insurance.
The insurance premium must be fully paid upon booking the stay and is non-refundable.
In the event of a claim, you must notify the company within 48 hours of the loss, and provide all the necessary information and supporting documents.
The general conditions of complete cancellation and the procedure in case of cancellation are available on the website: https://www.campez-couvert.com