Campsite Gorges du Verdon Var
Campsite of La Verdière a campsite camping in Provence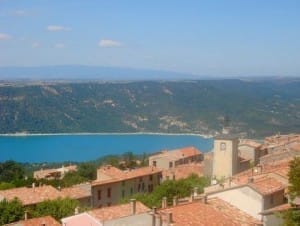 Welcome to the Gorges du Verdon, an exceptional natural site between Haut Var  and the Alpes of Haute Provence. The campsite La Verdière is located in the heart of Provence Verte in the Regional Natural Park of Verdon, near the lower gorges.
Campsite in the gorges du Verdon with acces to swimmingpool
Your small camping in the VAR PROVENCE and NATURAL PARC
The campsite La Verdière is located 300m from the village, near the Gorges, the big lakes and a multitude of emblematic places of Provence. Lovers of nature and sport will be delighted.
Gorges du Verdon, an exceptional site in Europe. The Verdon, the millenary river has dug, over the centuries, the gorges shaping landscapes of steep rocks, lakes and waterfalls whose beauty is breathtaking! Delphine and Matthias welcome and guide you, in French, English, or German, during your holidays in the Verdon to show you the best to visit.
Campsite Verdon
Rent a camping place or a mobil home in The Verdon
At La Verdière campsite you will enjoy a privileged, quiet and comfortable location, in a preserved natural setting in the heart of the Var department. Close to the amenities of its charming little village, typically Provençal and dominated by the wonderfull Castle of La Verdière.

a small and cheap Campsite in Green Provence and Verdon
Your rental mobile home in the Verdon in a comfortable and affordable campsite, well-defined locations and low prices, look at the rates! From the campsite, visit the picturesque villages of the Verdon: hilltop villages, medieval villages and unusual villages, from Saint Martin de Pallières to Moustiers Sainte Marie, passing Cotignac the troglodyte village, Sillan the waterfall or Barjols and its 19 fountains ... So many unmissable sites that will leave you with unforgettable memories!
Discover the Green Provence
The Haut Var,  is also an area of vineyards and fields of lavender that smell good Provence ... Do not miss the small Provencal markets and enjoy local products! The campsite La Verdière offers you an ideal geographical location to discover the Var hinterland, its green nature, and visit the region between Aix en Provence, Marseille and the French Riviera.
Your campingplace rental In Var In Provence
During your holidays in La Verdière, visit the Var and Provence, the campsite is 30 minutes from St Maximin la Sainte Baume and Manosque, 45 minutes from Aix en Provence, 1 hour from Marseille. So, do not wait any longer, our small family campsite fills up quickly, enjoy your holidays in tent, caravan, camping car, van or mobile home in the Provence Verte and Verdon.
With only 34 locations, our small camping is quikly full, so don't hesitate et don't wait to call us or book early online !

 Opening of the swimming pool from July 1st to September 1st
campsite Verdon
VERDON CAMPSITE ACCOMODATIONS
Campsite opened from March 15 to November 15 for tents, caravans and campingcars
Opened from january to december for mobil home stays
Reception : july and august non stop 8:00-20:00
Other periods : 9:00 - 12:00 13:30-17:30
campsite Verdon cheap, campsite Gorges of verdon with pool