The Priory of Notre-Dame de Ganagobie in Provence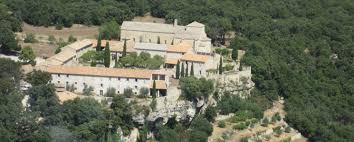 The Priory of

Notre-Dame de Ganagobie

in Provence

Only 1 hour from your campsite  La Verdière, enjoy your stay to visit the most famous abbey of the Alpes de Haute-Provence: Ganagobie Priory.

Take advantage of your stay to visit the most famous abbey of the Alpes de Haute-Provence: the Priory of Ganagobie. Indeed, this abbey contains a pavement of exceptional polychrome medieval mosaics. Perched on a plateau overlooking the river Durance, this Priory has a very long history. It was built in the 10th century and was often coveted because of its privileged location.

Throughout the Middle Ages, this abbey holds an important place in the region until the Black Death and especially the wars of religion ravage the country. Order is given by the governor of Provence to destroy the house of the Priory and the vault of the church so that Protestants do not settle there.

Some monks who restored it with little means survived until the revolution. Then, while partially destroyed during the insurrections, it was sold as national property.

In 1891, the owner of the estate which is none other than that of the castle of Malijai, yields what remains of the priory to the Benedictines. These exile in Italy then return in 1922. Meanwhile, the mosaics had been discovered. After roads are finally paved, which allow access to the large excavation equipment on the site, reconstruction of the church can begin from 1960. In parallel, the mosaics are restored in the workshops of the Historic Monuments to be replaced in 1986 to the delight of the visitors.
The Priory of Notre-Dame de Ganagobie :
the production of the treasures of Provence
In 1992, the community of monks resettled and in addition to their contemplative meditation, they made many products that they put on sale, mainly cosmetic products based on essential oil.
In addition to the visit of the church, only allowed, you can enjoy the breathtaking views of Mount Pelvoux and the Alps. And if you want to buy natural products, come to the shop where you will find: balms, honey, jam, perfume.
The monks sell all these products in order to maintain the Priory and its church in good condition, to the delight of visitors who come more and more numerous.
Be the next ones to come and see the treasures of Ganagobie by booking your campsite in Provence or your cottage in the Verdon
Le Prieuré, 04310 Ganagobie
Téléphone : 0033 4 92 68 00 04
VOUS AIMEREZ AUSSI